After a period of monitoring and fighting, the police force in Nghe An arrested three men buying and selling, possessing nine skins and tiger heads.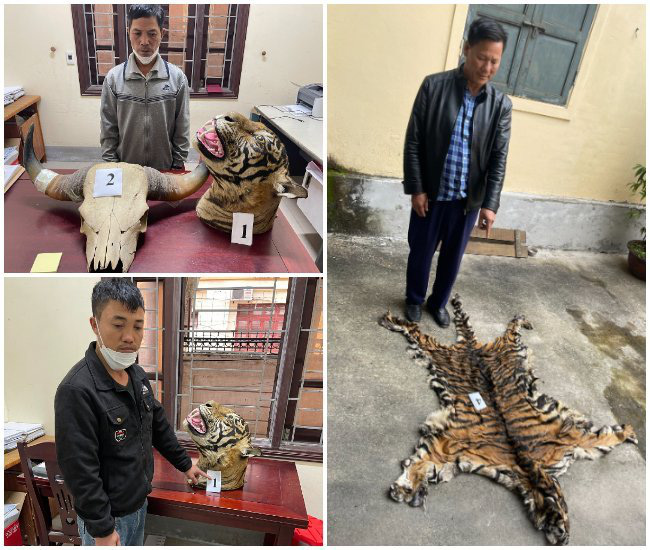 The suspects and the evidence of the case – Photo: provided by the police
On the evening of February 13, information from the police of Dien Chau district, Nghe An province said that this unit had prosecuted the case and prosecuted three defendants to investigate violations of regulations on wildlife protection related to the trade in tiger skins and heads.
Three people were prosecuted including Truong Sy Hai (53 years old), Vu Van Thuong (33 years old), living in Dien Lam commune, Dien Chau district, and Le Tuan Minh (47 years old), living in Dien Doai commune, Dien Chau district, Nghe An.
Previously, Dien Chau district police discovered that there were some people in the Dien Lam commune who were suspected of trading in wildlife products during the 2023 Lunar New Year.
Determining the complex and serious nature, Dien Chau District Police established a special struggle project.
The confiscated exhibits include nine tiger skins and heads, and a pair of horns suspected to be wild buffalo horns.
The project is currently under investigation and expansion.
Nghe An is considered one of the "hot spots" for tiger farming and trading in recent years. Previously, in early August 2021, Nghe An police force checked and discovered that in two houses in Do Thanh commune, Yen Thanh district, 17 adult tigers were kept in captivity (each weighing more than 200kg).