A study that found thousands of birds for sale online in Singapore highlights the critical need for a compulsory wildlife-pet registration system to make buyers more accountable and deter unlicensed sellers operating online.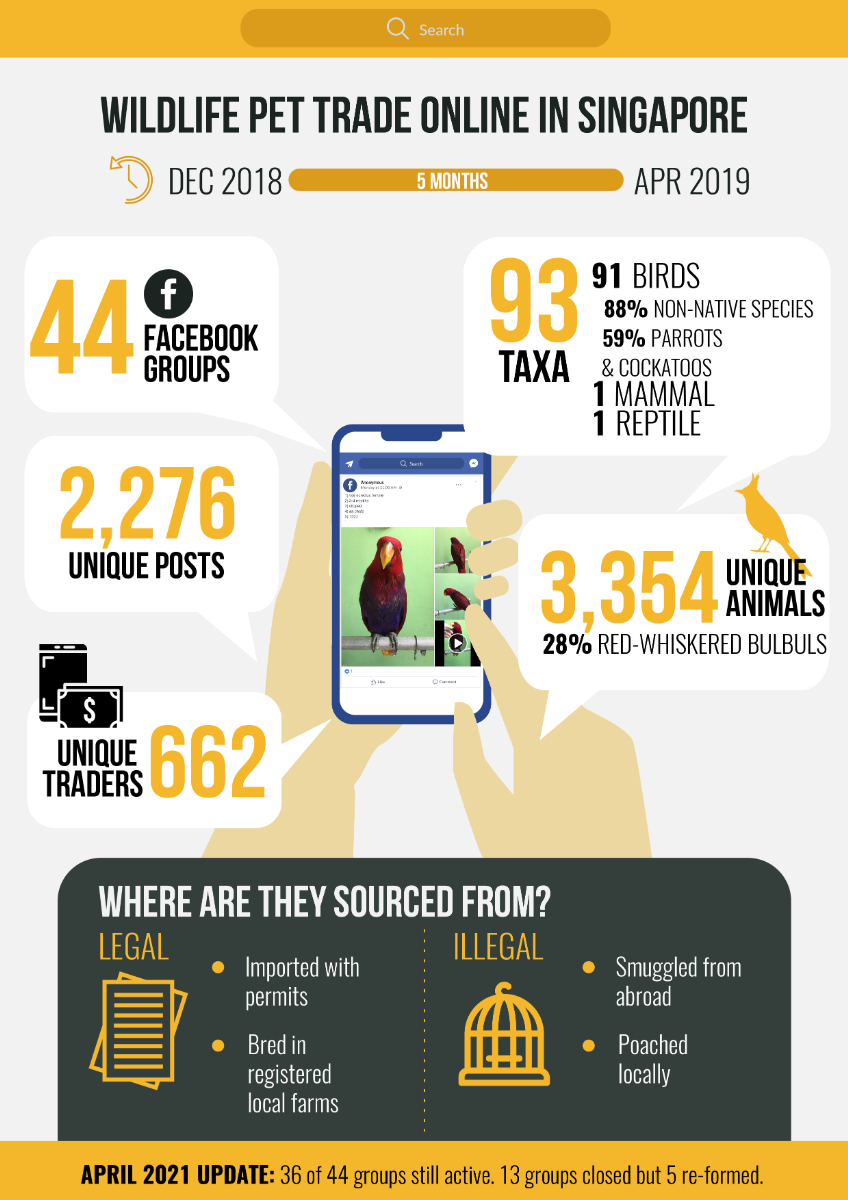 The research found 3,354 live animals for sale in 44 Singapore-based Facebook groups from December 2018 to April 2019 and that online sellers were unlicensed and therefore acting illegally. Almost 99% of the wildlife found in the study were birds.
Currently, Singapore does not require bird owners to maintain records of purchasing birds or a license for keeping them. The legal sale of birds and other allowed wildlife species is monitored at the trader level. Only registered pet shops, breeders, and importers are permitted to sell legal wildlife.
"Implementing a system that requires owners to register wildlife pets will increase owner accountability and allow tracking of the bird trade from both the seller and consumer end of the trade chain."
TRAFFIC Programme Officer Serene Chng who co-authored the report Trading Faces: Live Bird Trade on Facebook in Singapore   
Chng argues that a legality system would prevent leakage, verify proof of legal purchase and any change in ownership or disposal of the animal, ensuring legality along the supply chain. It will also enable action to be taken against those who illegally buy wildlife.
"In tandem with registration, concerted and consistent efforts by government agencies and online platforms to monitor and regulate the online wildlife trade remain crucial," said Chng.
Authors found that the trade continued to be active when the groups were revisited in April 2021, with 36 groups still offering birds for sale in new posts. Five of 13 groups that were shut down were re-formed with similar names, pointing towards persistent efforts by traders and buyers to circumvent enforcement and continue with online trade. This presents a significant challenge for enforcement and will contribute to the depletion of wild bird populations in the long run.
The report found a majority of the birds offered were not native species. Additionally, of the 93 species recorded for sale in the initial study, 49 are listed in CITES* Appendices and would have required documentation to be legally imported and traded.
The unregulated bird trade not only depletes wild populations but also poses risks of establishing invasive species and avian disease transmission.
The study questioned the source of some songbird species – one of the major groups observed for sale online and frequently wild-sourced. While wild-sourced native songbirds sold online could have been legally imported from neighbouring range countries, authors said they could also have been poached locally or smuggled into Singapore, given past seizures and online mentions of poaching.
The study also presented evidence of illicit cross border trade in birds, with some users implying an ability to bring back birds from Thailand and China. Some users also shared photos of birds purportedly for sale while travelling to neighbouring countries and asked fellow group members in Singapore if they were interested in purchasing.
Both Facebook and Singapore's National Parks Board (NParks) have acted on information from this study, closing groups and removing posts with illegal wildlife trade activity. NParks also issued advisory letters to sellers and administrators of such online groups between September 2020 and August 2021.
Dr Adrian Loo, Group Director of Wildlife Management at NParks, said, "The Singapore Government adopts a multi-pronged approach to regulate and enforce against illegal wildlife trade, which includes working with partner agencies to conduct checks at our border checkpoints, regulating and monitoring physical and online marketplaces, carrying out surveillance for poaching activities, and taking enforcement action."
"For example, NParks conducts regular raids and sting operations to arrest those suspected of illegal wildlife trade activities. In an island-wide raid in April 2021 on individuals who were offering wildlife species for sale without the necessary licenses, over 90 wildlife specimens were seized. Public who are keen to purchase pets are reminded to do so through licensed pet shops, and those with information on suspected poaching or smuggling activities can report them to NParks. We will continue to explore various options to detect and deal with illegal activities involving birds."
This study was partially funded by Mandai Nature.
"Illegal and unsustainable wildlife trade are one of the major drivers of species extinction. Tackling this key threat is a focus area for Mandai Nature. We partner with TRAFFIC in research to raise awareness of the illegal bird trade in the region. Monitoring and evidence gathering of wildlife trade activities such as the work led by TRAFFIC is critical to advocating policy change around illegal wildlife trade. This science-based approach enables authorities to enforce wildlife laws, improve regulation and inform conservation approaches."
Dr Jessica Lee, Head of Avian Species Programmes and Partnerships at Mandai Nature
Source: traffic.org